IT'S MY BIRTHDAY AND I'LL BARK IF I WANT TO!
It's such a special day; it's Brutus' birthday and he turns the big FOUR!
He's changed so much over the years, and he still surprises us regularly. He has a huge, quirky personality, and that's why he's the leader of The Bark Side pack.
For this year's doggy birthday cake, we decided to make him some liver cake. He's had it a couple of times before and he loved it, but we'd always bought it in and never made it ourselves. There was some concern as to whether our homemade liver cake was going to be up to his standards.
Spoiler alert: he loved it! In fact, it sent him a bit crazy and he was desperate for more!
This recipe is for liver cupcakes, but you might want to change it up a little. We used muffin cases and they weren't non-stick. It didn't occur to us that liver cake wouldn't be as "cakey" as human cakes (yes, we know, bit stupid) and that they'd stick to the cases. So you could either use greaseproof cases, or maybe even make it like a tray bake (line your tray though!) and slice into individual portions.
So without further ado, here's the recipe we used:
Liver Cake For Dogs Recipe:
This makes around 12 cupcakes (pupcakes)
Preheat the oven to 180 degrees (fan)
If you're using muffin cases, make sure they're greaseproof
Ingredients:
400g lambs' liver (raw)
200g self-raising flour
2 eggs
Splash of milk
Method:
Put the lambs' liver, eggs, and milk into a bowl and blend into a smooth, milkshake-like texture. Be careful of splashes…and don't make the mistake of mopping it up with your finger as though it's a normal cake!
Add the flour and mix it all in so you've got an even consistency.
Split the mixture into the muffin (cupcake) cases.
Bake in the oven for about 30 mins.
Leave to cool before sharing with your dog.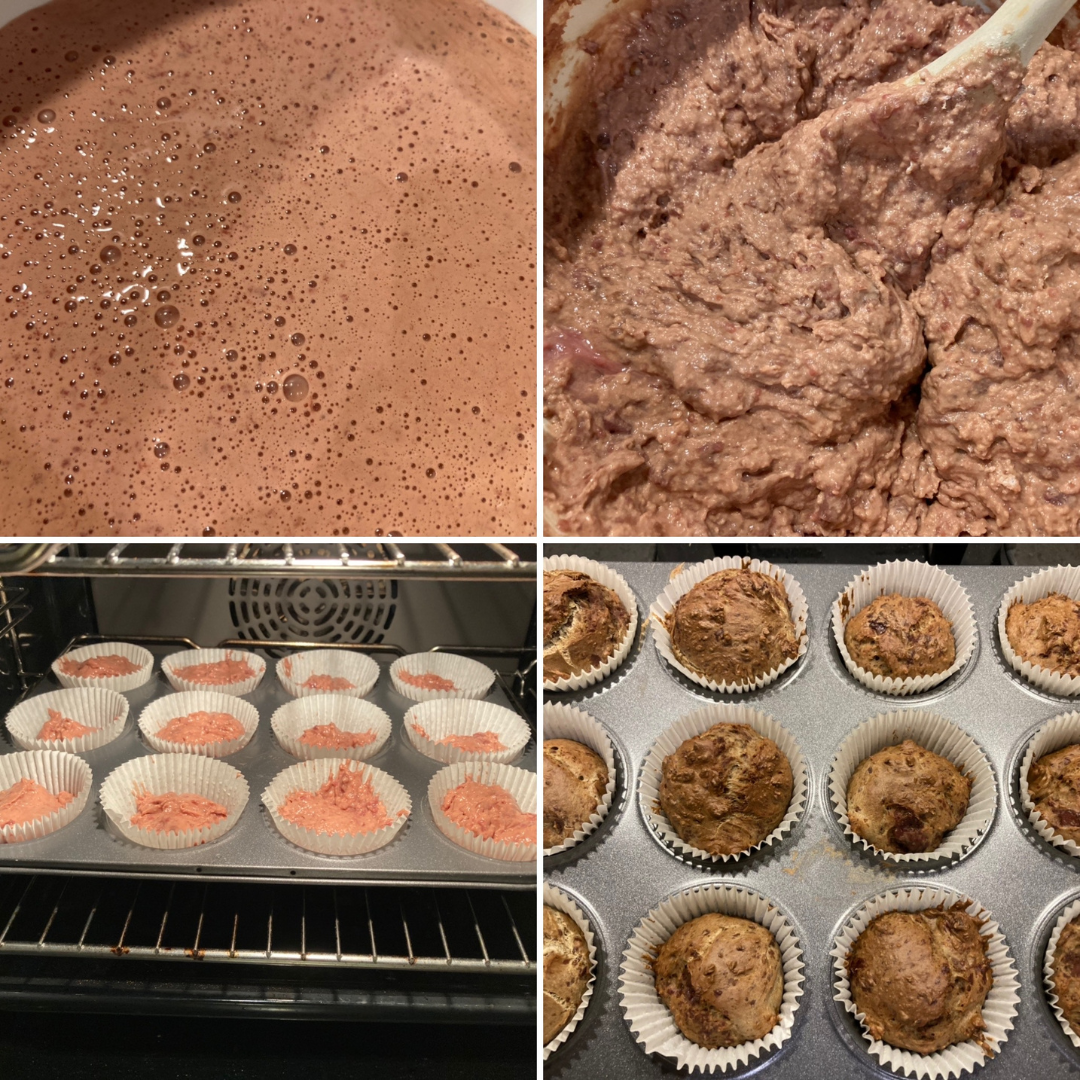 Storage:
Remember that the liver cakes for dogs contain a lot of cooked meat. Store them in an airtight container in the fridge (up to 3 days) or freeze them, but defrost them thoroughly before use.
Overall, these are easy to make (once you've got over the fact that you're making a liver smoothie and then turning it into cakes) and a small piece of the liver cake goes a long way. Liver cake for dogs is incredibly rich, so don't let them have too much at once. But the beauty is that it's cheap to make and your dog will love it. Enjoy!
And if you're wondering what birthday gift to treat your dog to, well just head to our toys section. We have guaranteed toys for the tough chewer, soft toys for those who are softer mouthed or like to snuggle, and treat toys for those dogs who like a challenge.